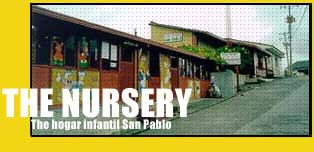 The Hogar Infantil san Pablo, a nursery for 480 children from birth to seven years of age, meets the needs of a particularly disadvantaged population in an area of Popayan, in the south of Colombia. It provides three main services: school education, nutritional support through food aid and medical checks. It also acts as a community focus to improve social conditions and seeks to reach adults.
Built after the earthquake and led by Margarita with the aid of associations in France and Canada, the nursery accommodated 300 children at first (480 by February 2001).
Considerable difficulties put the project at risk although it is soundly financed, with a 20% contribution from the Bienestar Familial institute, the official Colombian health organisation. Today, the children are divided by age:

- In Salacerna: 50 babies aged from birth to one year.
Aims: to secure health, hygiene and feeding. To teach young mothers the essential tenets of babycare to ensure healthy growth.
- In Caminadores: 100 children aged from 1 to 3 years.
Aims: to encourage stimulating activities and provide a hot meal.
- In Escuela: 200 children aged from 3 to 7 years.
Aims: to arrange school classes taught by infant teachers and provide a hot meal.

The adults are also involved in the work of the nursery with monthly meetings, the 'Charlas' leading to presentations, followed by discussions prepared by doctors, psychologists, sociologists, or lawyers on the various problems in the daily lives of the families and of the area.

The 'Modisteria' is a clothing workshop where children's clothes are made and where the women can benefit from classes for their own development or to acquire work-related skills.


The nursery aims to allow children to grow up in the most favourable circumstances during their formative years (from birth to six years of age) which are the most important for them. The very pleasant atmosphere offers parents somewhere to share their problems and sometimes find solutions from caring staff of whom more than half live in Bario el Retiro.

Medical cover is provided in the San Pablo medical centre a few yards from the nursery.
There are two medical consulting rooms, an emergency room, a dental surgery, a pharmacy and a small laboratory. A secretary and a nurse work full time and five doctors (two general practitioners, one gynaecologist, one paediatrician, one ear, nose and throat) and three dentists work by turns.
The centre allows preventative treatment through regular medical checks, treatment of growth problems and treating infections in children with additional responsibility for medical problems in adults.
Keeping proper medical records allows systematic follow-up. The centre regularly welcomes doctors, psychologists and nurses from overseas offering their services for periods of a few weeks to such a delightful people.


To carry on its work the nursery needs:
- A director at $US 250 per month
- An accountant at $US 220 per month
- Two secretaries and two nursing auxiliaries at $US190 per month

- Three infant teachers at $US180 per month.
- Ten paediatric nurses, three cooks and three service assistants at $US175 per month.
This totals 25 persons at $US4570 per month.

The food budget is about $US2000 per month. The operating and maintenance budget is about $US3000 per month.
This means an operating budget of around $US9570 per month ($US1.15 per child per day, say 7FRF or 1 Euro approximately).
The Bienestar Familial institute contributes to the food budget each month, amounting to about 21% of the total operating budget.
As for the remaining $US7570, Margarita can only count on donations from Canada, France and Finland and the modest parental contribution of up to $US75 per month. The most disadvantaged pay according to their means or not at all.
A bakery is under construction next to the nursery to bring in some additional income, but it will not be enough to meet the operating budget.



Margarita and the children of the Barrio el Retiro need support, your support. The nursery exists, the buildings are in place and children are crowding in. It is essential that financial underpinning from donations is found to support and maintain this marvellous example of social integration and self help.